Businesses Search Directory


You can search for local businesses by category.
•Amusement Parks (2)
•Bars/Food (5)
•Bed & Breakfast (1)
•Building Supplies (1)
•Chamber of Commerce (2)
•Close/Winterize Camps (1)
•Education/Schools/Services (1)
•General Construction (1)
•Historical Society (2)
•Hotels & Motels (7)
•Museums (4)
•Real Estate Services (4)
•Rentals (12)
•Summer Camp (1)
•Web Services/Hosting (1)


Interested in listing your business?
(we accept businesses in the Lewis County area only) Click Here

Looking to buy in the area?


Realtors/Brokers | Adirondack Real Escapes | Good Morning Realty | D Laux Properties

Regional Information
Find out what's going on off the hill - nearby, museums, history.

Brantingham Community Association (BCA)
The BCA is a nonprofit volunteer organization encompassing 350 members from the Brantingham area including Brantingham Lake, Lily Pond, Lake of the Pines, Pleasant Lake, Burr Pond, Long Pond, Dwyer Pond and surrounding areas. BCA is organized to promote members rights, represent members, foster community participation, protect the environment, provide social activities and related purposes.

Recreation


Some of the country's best recreation facilities.

Entertainment


Theater | music | museums

Local Information
Calendar, maps, pictures

Maps


Local maps from New York State to the Lake.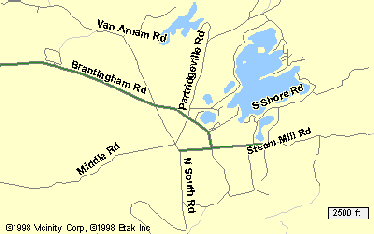 Bars/food


Some good eats and libations
Rentals


This is our main page for available rentals. Summer/Winter rentals are very popular and reservations should be made well in advance.
---
If you would like to list your rental: click here
---
Real Estate


There are several Agents in the area to help you find just the right place of your dreams.

Brantingham-Greig Community Library

Snow Capitol of the East


Receiving an average snow fall of 200 inches, skiers, snowmobiling, skaters, cross-country skiers and others will find plenty of frozen lakes, trails, mountains, and ski resorts Snow Ridge, Big Tupper, Gore Mountain, Titus Mountain, Whiteface Mountain to find winter activities at there best. Eighty-six miles of marked trails and over 500 miles of trails wind trough dense forest and wide open spaces through this scenic Forest Preserve. The rugged mountain scenery, heavy winter snows, and a pleasant summer climate combine to make this a popular year-round resort area. The lake is close to all activities all year round.
With over 500 miles of groomed packed trails, this is the perfect snowmobiling destination. With trail-side dining, fuel, entertainment and accommodations, you can enjoy a safe fun-packed snowmobiling vacation in the great outdoors. Enjoy some of the finest riding in the east on professionally groomed and maintained trails.
Fishing


The Black River offers walleye, small mouth bass and northern pike, hunting [deer, bear, rabbit, ruffed grouse, woodcock and turkey]. There are 218 square miles of public land, four deer management units, 139,377 acres of forest preserve and state forests, and a 5,000-acre wildlife management area.